Sometimes sorry doesn't seem to do it. Not even if you give away free calls and SMSes for a day to assuage customers who have been kept out of a mobile network for about five hours.
Certainly, M1 CEO Karen Kooi's personal appeal to disgruntled M1 customers today, in the form of a mass SMS, hasn't sat well with many users, who quickly took to the telecom operator's Facebook page to express their unhappiness with Tuesday's outage.

In her message, Kooi said she took the incident seriously and would "spare no effort" in enhancing M1′s network. Rather than win back customers, it may have drawn more flak.
Typical of many postings, an angry user Patrick Ng asked on the operator's Facebook page: "Can I reject your goodwill gesture because I can afford to pay for it?".
A number of other users say that they still cannot send SMSes or receive calls, despite M1 declaring that all services have been restored by around noon yesterday.
The outage, suspected to be caused by call processing software, started from 7am and prevented users from calling or sending SMSes. It is the operator's third major outage in 13 months, according to a report in Today.
M1 had just been fined a record S$ 1.5 million in October last year, for an outage that lasted almost three days in January 2013.
Even the Minister for Communications and Information, Yaacob Ibrahim, has taken the rare step of weighing in on the matter this time.
"It has been a frustrating experience for M1 customers, especially having just experienced other disruptions in very recent months," he wrote on his Facebook page, reported The Straits Times.
With pressure mounting, it doesn't look like M1 will be waving off concerns about its network quality after the latest disruption to services. This, despite offering free local calls and SMS and MMS messages to customers this Sunday.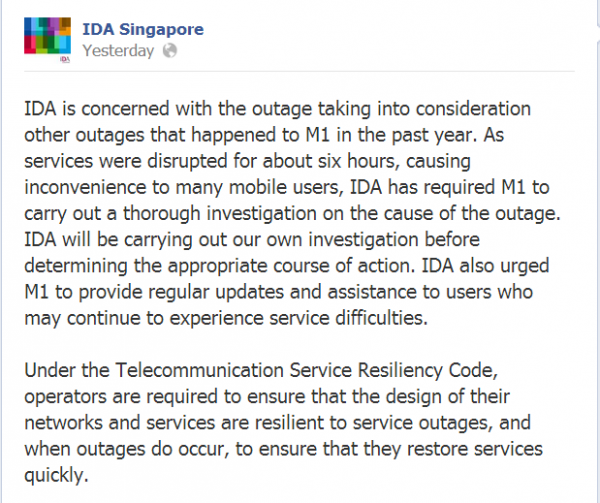 The Infocomm Development Authority has already told M1 to conduct a thorough investigation, while it carries out its own probe to determine the appropriate action to take.
Worryingly for Singapore's smallest cellphone operator, the government regulator said it would take into consideration the outages that have occurred in the past year as well.